Print
Crab Louie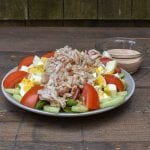 Author:
Prep Time:

10 min

Cook Time:

5 min

Total Time:

15 minutes

Yield:

6 servings

Category:

Snack/Appetizer
Ingredients
For the dressing:
1 cup mayonnaise

3 tablespoons ketchup

1 tablespoon sweet pickle relish

1 tablespoon lemon juice

1 garlic clove, minced

1 teaspoon Tabasco

1/2 teaspoon Worcestershire sauce

1/4 teaspoon smoked paprika

1/4 teaspoon chili powder

Salt and freshly ground pepper, to taste
For the salad:
3/4 pound asparagus

2 (6-ounce) romaine hearts, cut crosswise 1/2-inch thick

1 medium seedless cucumber, peeled, thinly sliced

4 large radishes, thinly sliced

4 medium tomatoes, cut into wedges

4 hard-boiled eggs, cut into wedges

1 pound Dungeness crab meat
Instructions
In a small bowl, whisk together the mayonnaise, ketchup, relish, lemon juice, garlic, Tabasco, Worcestershire sauce, paprika and chili powder. Salt and pepper, to taste. Let stand for 15 minutes.

In a medium saucepan over high heat, bring salted water to a boil. Cook the asparagus until tender, about 3 minutes. Drain and allow to cool.

On a serving platter, arrange the romaine lettuce, cucumber, radishes, tomatoes, eggs and asparagus. Top with large chunks of crab meat with dressing on the side.