Print
Garbage Plate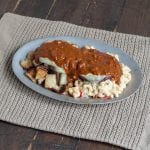 Author:
Prep Time:

20 min

Cook Time:

6 hours

Total Time:

6 hours 20 minutes

Yield:

4 servings

Category:

Main
Ingredients
For the macaroni salad:
8 ounces elbow macaroni

1 cup mayonnaise

3 tablespoons milk

2 tablespoons vinegar

1 tablespoon mustard

1 teaspoon sugar

1/2 teaspoon salt

1/4 teaspoon pepper

1 cup celery, sliced thin

1 cup green bell pepper

1/4 cup onion, chopped
For the home fries:
3 medium russet potatoes, cubed

3 tablespoons butter

Salt and pepper, to taste
For the beef chili:
1 1/2 pounds lean ground beef

1 onion, chopped

1 green bell pepper, chopped

2 garlic cloves, minced

2 16-ounce cans red kidney beans, rinsed and drained

2 14 1/2-ounce cans diced tomatoes

2 tablespoons chili powder

1 teaspoon salt

1 teaspoon pepper

1 teaspoon ground cumin
For the finishing touches:
8 hamburgers, cooked

8 slices American cheese

2 tablespoons Dijon mustard

2 tablespoons horseradish sauce

1/2 cup sour cream

Mustard, for dressing

8 slices bread
Instructions
To prepare the macaroni salad:
In a medium saucepan, cook pasta according to package directions. Drain pasta, and rinse with cold water.

In a large bowl, combine mayonnaise, milk, vinegar, mustard, sugar, salt and pepper. Add macaroni, celery, green pepper and onion. Toss to coat. Cover and refrigerate.
To prepare the home fries:
Using a colander, rinse potato cubes with cold water and drain well.

In a large skillet over medium heat, melt butter. Place potato cubes in the skillet, and stir to coat with butter. Season with salt and pepper, to taste. Cover the skillet with a lid and cook for 10 minutes. Remove the lid, and continue cooking while turning frequently until the cubes are brown and crispy, about 10 minutes.
To prepare the beef chili:
In a large skillet over medium-high heat, combine the ground beef, onion, bell pepper and minced garlic. Stir until beef crumbles and is cooked through, then drain.

Place beef mixture in a slow cooker. Stir in kidney beans, diced tomatoes, chili powder, salt, pepper and cumin. Cook on low for 5 to 6 hours.
To assemble the Garbage Plate:
On a large, sturdy plate, scoop a generous helping of macaroni salad. Add an equally generous helping of home fries. Top with two cooked beef patties coated in melted cheese.

In a small bowl, combine the Dijon mustard, horseradish and sour cream. Spread onto the burgers. Ladle a serving of beef chili over the top.
Notes
Macaroni and chili can be store-bought. Serve with two slices of Italian bread, if desired.