Print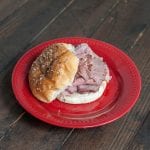 Beef on Weck
Author:

Prep Time:

20 min

Cook Time:

135 min

Total Time:

2 hours 35 minutes

Yield:

6

servings

1

x

Category:

Main
---
For the roast beef and sandwich:
3

–

4

pounds eye of round or

ten

derloin roast, at room temperature

Salt and pepper, to taste

Horseradish, for garnish
Mustard, for garnish
For the kimmelweck rolls:
1 tablespoon

coarse salt

1 tablespoon

whole caraway seeds

1 tablespoon

cornstarch

1/4 cup

warm water

1/2 cup

boiling water

6

Kaiser rolls, sliced
---
Instructions
To prepare the meat:
Preheat oven to 450 degrees F.

Position a shallow grate on a roasting pan filled with 1/4-inch of water. Place the roast on the grate fat side up. Sprinkle generously with salt and pepper.

Place the roast in the oven, and lower oven temperature to 350 degrees F.

Cook until a meat thermometer inserted into the center of the roast reads 130 degrees F, about 10-20 minutes per pound.

Remove the roast from the oven, and cover loosely with foil.

Allow the covered roast to rest for 10-15 minutes.

Pour the gravy from the roasting pan into a large Pyrex measuring cup.

Add water to the gravy mixture until it is 1/3 gravy juice and 2/3 water to make the au jus for the sandwiches.
To prepare the rolls:
In a shallow pan or pie tin, combine the salt and caraway seeds.

In a small saucepan, boil 1/2 cup water.  In a small bowl, dissolve the cornstarch in the warm water. Add the cornstarch mixture to the boiling water. Return the mixture to a boil until it is thick enough to coat a spoon. Remove from heat, and allow to cool.

Preheat oven to 350 degrees F.

On a baking sheet, position the 12 Kaiser roll halves.

Brush the top of each roll with the cornstarch solution. Sprinkle each top with the salt and kimmelweck mixture.

Bake rolls until the kimmelweck dries, about 4-5 minutes.
To assemble the sandwiches:
Slice the warm roast beef as thin as possible.

Lightly dip the top half in the au jus only enough to moisten it.

Pile 4 ounces of sliced beef onto the bottom of the roll.

Add horseradish and mustard.

Finish the sandwich by capping with the top half of the roll.
---