Print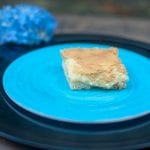 Philadelphia German Butter Cake
Author:

Prep Time:

20 min

Cook Time:

30 min

Total Time:

2 hours 15 min

Yield:

10

servings

1

x

Category:

Dessert
---
For the Base

:

1/4 cup

sugar

1/4 cup

butter

1/4 teaspoon

salt

1

egg

1

packet (1/4 ounce) active dry yeast

1/2 cup

milk

2 1/4 cups

flour

2 teaspoons

vanilla extract

For the Topping:

1 cup

unsalted butter

2/3 cup

flour

2 cups

superfine sugar

2

eggs

4 tablespoons

milk

1 teaspoon

vanilla extract
---
Instructions
To prepare the batter:
In the bowl of a stand mixer fitted with a paddle attachment, combine sugar, butter and salt on low speed. Add the egg, and beat on medium speed until fully combined, about 1 minute.

In a small bowl, pour in the warm milk. Spread the yeast and stir softly until dissolved.

Replace the stand mixer's paddle attachment with a dough hook. To the egg mixture, add the flour, yeast mixture and vanilla. Beat for 3 minutes.

Onto a lightly floured surface, turn the dough and knead for 1-2 minutes.

Place the dough into a lightly greased bowl. Cover the dough with a towel and transfer to a warm dry place. Allow the dough to double in size, about 1 hour.

Grease a 9×13-inch pan with parchment paper.

Once the dough has doubled, punch it down. Remove the dough, and use a flexible rubber spatula to press it into the pan. Create small edges in the crust to hold the filling.
To prepare the filling:
In a stand mixer fitted with a paddle attachment, cream the butter on medium speed until fluffy, about 2 minutes.

Add eggs one at a time allowing the first to combine before adding the second. Add the vanilla. Add the milk gradually until combined.
To prepare the cake:
Preheat oven to 375 degrees F with a rack in the middle position.

Pour the topping over the dough. Use an offset spatula to evenly cover the dough. Let the dough stand for 20 minutes.

Bake the cake until browned on the edges yet gooey in the center, about 30 minutes.

Transfer pan to a wire rack to cool completely before serving.
---