Print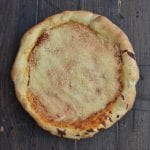 Deep Dish Pizza
Author:

Prep Time:

30 min

Cook Time:

60 min

Total Time:

1 hour 30 minutes

Yield:

4

servings

1

x

Category:

Main
---
For the pizza crust:
1 1/2 cups

flour

1/4 cup

cornmeal

3/4 teaspoons

salt

1 teaspoon

sugar

1 teaspoon

active dry yeast

3/4 cup

lukewarm water

1/4 cup

unsalted butter, divided

Olive oil, for brushing
For the tomato sauce:
1 tablespoon

unsalted butter

1/2

small onion, grated

3/4 teaspoons

salt

1/2 teaspoon

dried oregano

1/4 teaspoon

crushed red pepper flakes

2

garlic cloves, minced

1

(15-ounce) can crushed tomatoes

3/4 teaspoon

sugar
For the toppings:
2 cups

shredded mozzarella cheese

1 cup

grated parmesan cheese

1/2

green pepper, thinly sliced

1 cup

pepperoni

1/2 cup

sliced mushrooms
---
Instructions
To prepare the crust:
Lightly grease a large bowl with olive oil. Set aside.

In the bowl of a stand mixer fitted with the dough hook attachment, combine the flour, cornmeal, salt, sugar and yeast. Add the lukewarm water and 1/8 cup of melted butter. Beat the ingredients on low speed until it falls off of the hook, about 5 minutes.

Remove the dough, and lightly form into a ball. Place the dough into the prepared bowl. Roll the ball in the bowl to coat it in olive oil.

Cover the bowl, and store it in a warm dry place until it doubles in size, about 1 hour.

Lightly flour a work surface. Remove the dough, and lightly punch it down.

Using a rolling pin, roll the dough into a 11×8-inch rectangle. Spread 1/8 cup of softened butter over the dough. Roll the dough lengthwise, and return to the greased bowl.

Transfer the bowl to the refrigerator, and chill about 1 hour.
To prepare the sauce:
In a medium saucepan over medium heat, melt the butter. Add the grated onion, salt, oregano and red pepper flakes. Heat for 5 minutes. Add the garlic, tomatoes and sugar.

Reduce heat to medium-low, and simmer the mixture until it thickens, about 30 minutes. Remove from heat. Set aside.
To prepare the pizza:
Preheat oven to 425 degrees F.

Lightly roll the dough on a floured service. Roll the dough into a 12-inch round circle.

Place the dough over a 9×2-inch deep dish cake pan. Press the dough into the pan.

Brush the top edges of the dough with olive oil.

Fill the pizza crust with the mozzarella cheese, green pepper, pepperoni and mushrooms.

Pour the tomato sauce over the toppings. Top with the parmesan cheese.

Bake the pizza until the crust is golden brown, about 18 minutes.

Allow the pizza to cool in its pan on a wire rack for 10 minutes.

Slice and serve warm.
---